Families have been trusting our one-on-one support for their students since 2012.
HIRE THE BEST TUTORS IN LOS ANGELES
Valley Prep's expert educators tutor each and every high school subject. Yes, all of them. Not only do we instruct/provide tutoring at AP level, but we're experienced with IB, honors, and regular level classes, too.
When we say Science we mean not just Biology and Chemistry, we mean all four Physics APs. When we say Math, we mean Algebra all the way through AP Calculus BC. If you need it, we've got the pros to get the job done.
Our carefully vetted, background-checked, insured, and certified team has the professional know-how and unique Valley Prep training to turn your student's C's and D's into A's and B's.
We employ only the best-loved tutors in LA, offering top-notch academic support with expert supervision.
You'll receive biweekly tutoring notes. Imagine the relief as you enjoy watching their comprehension and grades soar.
You'll receive biweekly tutoring notes with our popular Valley Prep Newsletter, which is always chock-full of information, links, and insights you need to keep everything on track. Parents tell us they love the consistency and clarity of our communications.
Best of all, your support is customized precisely to your student's needs, which we carefully explore with you at intake.
ENGLISH
Honors and Regular English 9
Honors and Regular English 10
Honors and Regular English 11
Honors and Regular English 12
World Literature
American Literature
AP Language
AP Literature
British Lit
College Essay Support
SOCIAL STUDIES
American History
World History
Geography
Government
Economics
AP US History
AP European
AP World History
AP Government
AP Microeconomics
AP Macroeconomics
MATH
Pre-Algebra
Algebra I
Geometry
Algebra II
Trigonometry
Pre-Calculus
Calculus AP
Statistics
Advanced Mathematics
AP Calculus AB/BC
SCIENCE
Life Science
Earth Science
Biology
AP Biology
Chemistry
AP Chemistry
Physics
AP Physics
AP Psychology
FOREIGN LANGUAGES
Spanish
French
Latin
Mandarin
Japanese
Taking an SAT or ACT can intimidate even the most confident students. With admissions to selective colleges often riding squarely on reaching specific scores, this rite of passage requires careful preparation.
Out methodology recognizes the overlap of objectives between these exams and future success as a college student, so we often place tutors who either overtly support both high school coursework and the transition to exam time. Students and parents frequently tell us their increased confidence was as important to them as the scores they improved.
Valley Prep students commonly see SAT gains of 170-270 points and ACT gains of 4-7 points using our proprietary program. We stand by our results, and guarantee ongoing support if needed with retakes.
SAT I PSAT I ACT I ISEE I HSPT I CHSPE I GED
Updated Dates for SAT and ACT, 2021-2022
ACT DATES 2021-2022
February 6, 2021
April 17, 2021
June 12, 2021
July 17, 2021
September 11, 2021
October 23, 2021
December 11, 2021
February 5, 2022
April 9, 2022
June 11, 2022
July 16, 2022
SAT DATES 2021-2022
March 13, 2021
May 8, 2021
June 5, 2021
August 28, 2021
Octover 2, 2021
November 6, 2021
December 4, 2021
March 12, 2022
May 7, 2022
June 4, 2022
August 27, 2022
Due to COVID-19, the dates above may change, based on geographic location. Please check www.collegeboard.org or www.act.org for up-to-date information.
College Admissions Counseling
College admissions specialist Pamela Donnelly has trained a team of top-level college admissions counselors in her proprietary process for admissions success. At Valley Prep Tutoring, they secure exceptional outcomes with maximum merit-based financial aid.
Services Offered:
List co-creation, introducing appropriate schools based on student preferences and performance

Assessment of extracurriculars/volunteer work

Course selection review

Researching and advising on right-fit major

Summer programs and internship advisory

Assistance in qualifying for merit scholarships

Essays coaching on each and every application
a. Common App, Coalition App, UC, others
b. Personal statement
c. Supplementals

Helping to strategize each step in completion of the application process

Verifying the application before student submits

15% discount on any tutoring or test prep services desired

Motivation, mindset and timelines Be sure to enroll your student in our exclusive GATE platform.
The entire time my daughter was growing up, she knew how proud I was to be a Brown University alum. we had the matching sweatshirts and dreamed about her following in my footsteps. We began workign with Pamela Donnelly while Claire was in middle schiil to ensure we made that dream a reality. I couldn't be prouder to now be the mom of an environmental engineering student at my very own Alma Mater!
JENNIFER ZELLER
My daughter Mia wa admitted to so many competitive colleges! Her main tutor became an important part of our family, and even attended Mia's graduation. Pamela and her team made all the difference in our outcomes. I'm convinced that trusting the right support, including Pamela's consulting and test prep from the tutoring team, is why Mia has transitioned so successfully. As a single mom of an only child, you can imagine how thankful I am!
TINA POLLINI
One of the most critical and pivotal moments in a young person's life is when they are faced with the proverbial question: what, where and of they will attend college. Because of tremendous hard work displayed by our son and daughter, and invaluable consulting from Pamela Donnelly and her tutoring team, the dream of being accepted into their top choice of university was realized. We are eternally grateful!
DESIREE AND BLAIR UNDERWOOD
VIRTUAL HIGH SCHOOL OFFERS DISCERNING FAMILIES AN OPTION SO THEIR TEENS CAN ASPIRE FROM ANYWHERE IN THE WORLD ON THEIR SCHEDULE.
WE MAKE SURE ONLINE COURSEWORK LEADS TO POST-GRADUATION SUCCESS.
Imagine your son or daughter successfully completing high school while matched with upbeat, effective tutors on their support team. This isn't old-school homeschooling, this is next level.
Best of all, you don't have to be an expert in all subject areas for them to progress. We'd love to screen share and show you how your student can secure their high school diploma without ever having to risk crowded classrooms or deal with. Let's set a Zoom call. Book to discuss now.
This attractive alternative to traditional 7am-3pm scheduling provides the level of flexibility needed due to:
• Competitive athletics
• Emotional/behavioral challenges
• Medical leave
• Work schedules (especially in the entertainment industry)
Try one 1-hour session

You pick any day of the week (weekends included)

Buy a 20-hour package

Get 15% off, or book biweekly at regular rates
Prepared Not Scared Package
Try our SAT vs. ACT diagnostic exam (parents proctor with our guidelines)

Get professional feedback on performance within 48 hours

Enroll in our popular 12-session, 24-hour package for 15% off, or book biweekly at regular rates

You pick any day of the week (weekends included)
Try a 1-hour intake session for parent(s) + student

You pick any day of the week (intakes are offered on weekdays only)

Secure a 10-hour mentorship package

Add + 5 or +10 hours when needed at same rate
Pick your favorite instructional times and amount of help needed

Gain access to the same tutor each session, with option to change them at any time

Receive instruction in the convenience of your L.A. home or online via Zoom

Get ongoing supervision of progress, with emailed biweekly notes detailing objectives covered and current grade status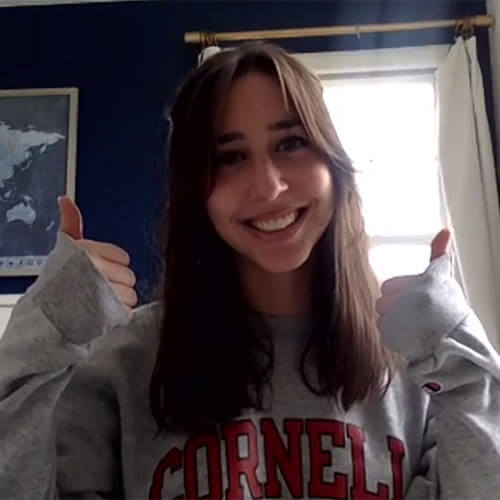 "I'm still absolutely elated…with Pamela's help I'll be majoring in Nutritional Science at Cornell's College of Human Ecology. I applied ED with a 4.35 GPA and a 1430 SAT. Thanks for everything to Pamela and her fantastic team!"
SOPHIE S.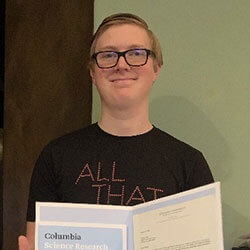 "So proud to share that I got into Columbia University (6% acceptance rate!) as one of only 10 Science Research Fellows. Your staff helped me earn an ACT composite score of 34 and 800's on both the Math II and Physics SAT subject tests."
Charles B.
"Went from a 26 to a 31 on my ACT, thanks to Pamela and her team. Heading to University of San Francisco with a $50,000 scholarship. Woo-hoo! My dad was so proud that I got into 9 out of the 11 schools where I applied."
VALERIE S.
"With Pamela's team's expert support, I got into 10 of the 11 schools where I applied. My 4.57 cumulative GPA and 35 on the ACT took a long journey, but I'm thrilled to be committing to UCLA!"
Taylor L.
"300 points gained on my SAT! Thanks for the help. I'm moving to NYC from LA in the fall to major in Entrepreneurship at Baruch College."
Justin L.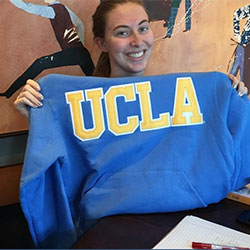 "Accepted into 7 out of the 9 colleges to which I applied. Looking forward to majoring in English at UCLA thanks to your great test prep support!"
Peyton A.
"Thanks for helping me build my target colleges list, strategize, create competitive essays, and apply. And for the ACT tutoring! I'm heading to the University of Tampa to study nursing."
Jensin M.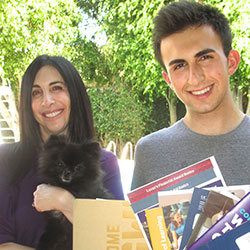 "I applied to colleges with a 4.25 GPA, 2200 SAT, heading to UC Berkeley. Was offered over $100,000 in merit-based aid! Thanks for all your help."
Lucas C.
"Pamela helping me apply made a stressful process enjoyable. I got into so many great schools, and will be attending UC Santa Barbara as a Pre-Bio major. My parents and I are glad they're helping my sister Amanda next!"
Lauren R.
"250 points on my SAT score! Heading to University of Oregon. Your team is the BEST."
Madison G.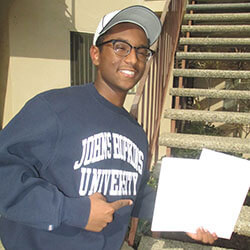 "$232,000 in scholarships! Heading to John's Hopkins University, pre-med. Thanks so much for your awesome support!"
Nathan M.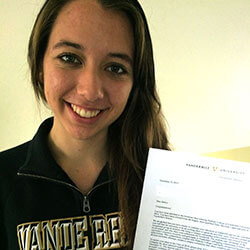 "My tutor helped me get 5 points on my ACT and acceptance to my dream school. Vanderbilt University here I come!"
Jamey G.
Hey Mom and Dad ~
You and your high school student are facing the most unprecedented time in the history of college admissions in the US.
Sadly, many teens fail to receive the recognition that they truly deserve for all their hard work and aspiration, because the adults in their lives are confused about exactly how to help them.
Talk about challenging!
That stops now.
Ready to get digital? It's time to solve this very real and sticky problem.
Choose between two options: monthly GATE online support with weekly access via webinar to ask questions of GATE founder Pamela Donnelly, or a one-time GATE enrollment and take the lead yourself. It's that simple.
Until today, your limited available options required outsourced vendors offering piecemeal solutions, not a comprehensive, video-driven, step-by-step system led by a team of 40 professional educators (that's how many team members collaborated to make GATE amazing!).
Pamela and her team pledge to personally support all enrolled families in the monthly option through a weekly group webinar with Q & A. Access to ongoing support like this is worth thousands of dollars. Want to talk about a bargain?
That's included with your $247 GATE monthly enrollment.
Many of the strategies covered here begin earlier than parents expect. Do not make the rookie mistake of waiting to enroll under the false assumption you'll save money that way. The strategies and trainings in GATE, when applied as early as possible, have led to $35,000 and more in free tuition-but those opportunities are tied to making the right moves long before 12th grade.
Stop crossing your fingers in hopes that a counselor at their school will do 100% of what's truly needed for a competitive advantage and merit aid. Sad reality: the national average ratio is 482 students to 1.
Your teen is about to launch, and it's up to you to help them make that happen.
Make the move. OPEN the GATE for your son or daughter.