We are leading college admissions specialists offering tutoring AND COUNSELING in Los Angeles and across the U.S. via Zoom.
1. Exploring majors and programs
2. Building list of 8-12 right-fit schools
3. Advising on course rigor and sequencing
4. Introducing dual transcript submission options
5. Advising on how to frame extracurricular and volunteerism
6. Identifying strategic internship/apprenticeship opportunities
7. Revealing financial aid and scholarship opportunities
8. Guiding testing timelines and prep strategy
9. Coaching preliminary, interim, and final drafts of all essays
a. Common Application personal statement
b. Coalition Application
c. University of California Application
d. Other state applications
e. All related supplemental essays included
10. Helping to complete the admissions process, including verifying applications before submission
11. Deferral or waitlist strategy, as needed
12. All U.S. colleges included. We help students with ivy league applications as well as state schools, small liberal arts colleges, and more.
At inception, my team worked under the name Valley Prep Tutoring, a company that from 2012-2021 represented over 100 tutors and counselors with degrees from all eight Ivy League institutions and dozens of similarly highly selective universities. As Valley Prep transitioned to a new company identity called Pamela M. Donnelly Consulting, services continued seamlessly.
Today the company offers the same carefully vetted tutors and counselors. Before you enroll your student, you receive a photo/bio of the staff member personally recommended based upon information gathered in your complimentary exploration session. We serve students across the U.S. and internationally on Zoom. In-person services are also available in limited locations, including Los Angeles. All sessions are one-on-one. Your satisfaction is guaranteed.
Dr. Donnelly is a summa cum laude graduate of Columbia University in the City of New York with her degree in Literature/Writing and Secondary Education, and earned her Ph.D. in Global leadership from Pepperdine University based on her years of research focused on higher education. With over 20 years of experience, she leads a team of highly trained educators offering in-home and virtual counseling and tutoring services for GPA support, test prep, essays coaching and more.
Her first book, SWAT Team Tactics for Getting Your Teen Into College, went to #1 on the Amazon best-seller list in Education. Following the release of her second book, 4 Keys to College Admissions Success, Donnelly has become a nationally-recognized media expert with both tips for parents/teens and political analysis of the shifting landscape of what it takes to access America's colleges.
She has been featured in and interviewed by many of the most prestigious publications in America, including Time Magazine, The New York Times, NBC, ABC, CNN and more. Committed to championing underserved populations, Dr. Donnelly completed her PhD at Pepperdine University by researching and writing her dissertation on the topic of increasing equitable college access. Discover more at www.pameladonnelly.com or
@pamelamdonnelly on LinkedIn.
Pamela raised her three daughters (left to right) Lily, Annabel, and Hannah while attaining her college degrees and building her businesses. If you love animals, be sure to check out her oldest daughter's advocacy work as @kittenxlady. Pamela is is one of over a million followers of Hannah's on social media. See www.KittenLady.org.
Featured Members of The Team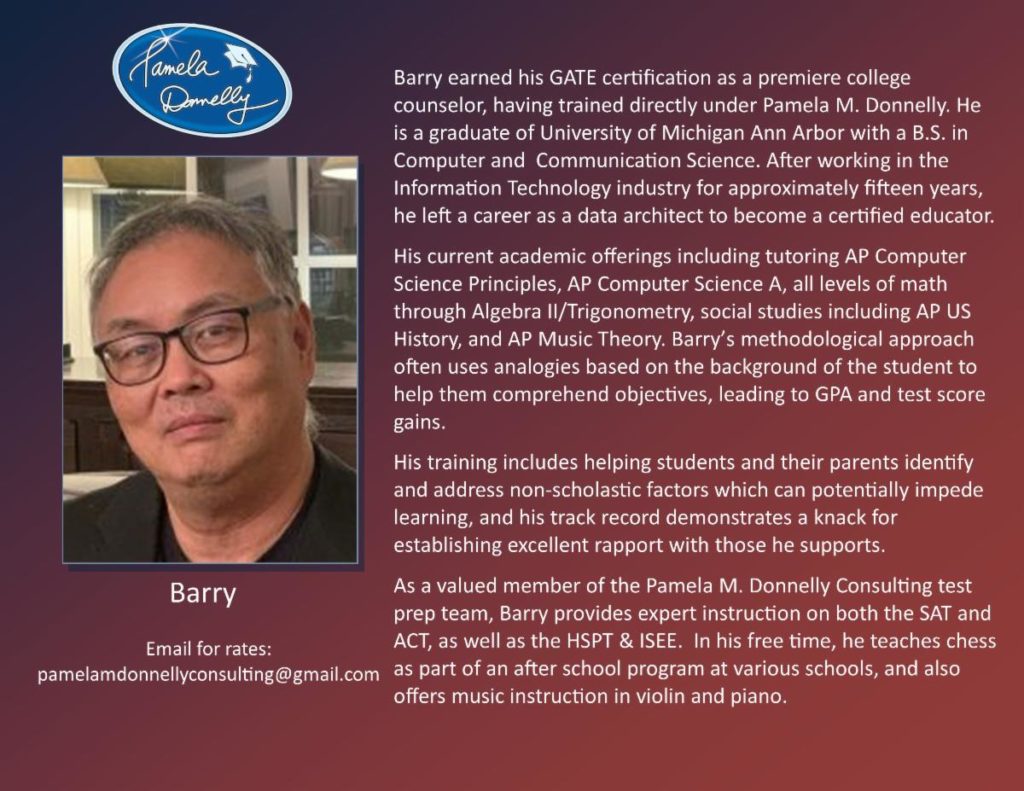 Jonathan Cardinia earned his Bachelor of Science degree at St. Alexius College.
Honors included Dean's List and numerous academic awards and achievements.
He is an experienced customer services professional with many years of administrative work and training before joining Pamela's team in 2013.
In addition to enjoying providing excellent administrative support, he loves reading, traveling, and spending quality time with family.